The Park People is the umbrella organization that helps form local friends groups to advocate for our county parks. They were instrumental in establishing the WeedOut! program, and hold a yearly gathering for member groups to share ideas and learn from each other. Their annual newsletter featured accomplishments of several Friends Groups including Friends of Grant Park.
Here is their newsletter page highlighting our 2021 tree planting efforts: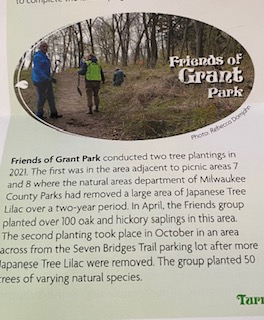 We purchase trees each year for planting, and volunteers are always willing to lend a hand. You can volunteer for next season by contacting us at friendsofgrantpark@gmail.org. We'll give you a call when we receive our order of trees.