On Aug. 24th, several FOGP members traveled to the Root and Pike River watershed to tour restoration areas and improvements made over the last 20 years by the Root-Pike Watershed Initiative Network (Root-Pike WIN). Our guide, Bill Sasse, a new member of FOGP, is a board member and former president with Root-Pike WIN. Since we are setting aside a significant portion of our fundraising money to fix erosion of a slope above a bridge in Grant Park, we thought we should see what Root-Pike WIN has accomplished. We toured a restored prairie in Pritchard Park; a stream restoration and bike path in Mount Pleasant; and a regenerative storm water conveyance in Kenosha filtering runoff from farmers soybean fields into the Pike River. Our last stop was the restoration at Petrifying Springs Park to view the refreshing clean waters of the Pike River stream flowing past a pavilion with graduated stone embankments to minimize erosion. Did I mention it was 94º with high humidity on Aug. 24th?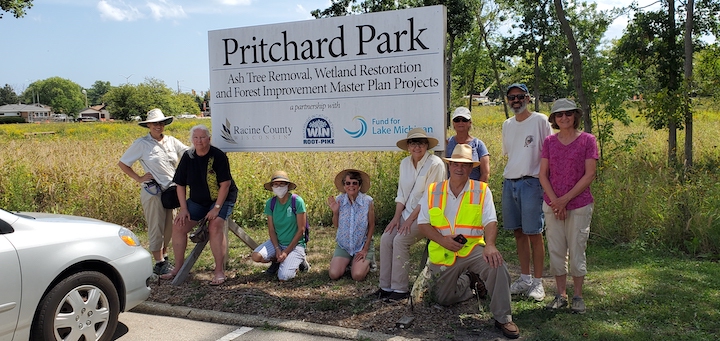 Root-Pike WIN has tirelessly partnered with federal, state, county, corporate and community partners to address the task before them. Layer after layer of planning, engineering, permitting, land acquisition, and construction, along with volunteers following up with planting prairie seed mixtures and removal of invasive species has resulted in a greener, cleaner watershed that benefits our rivers and our communities.
Thank you to Bill Sasse, and all the volunteers and partners of Root-Pike WIN for their accomplishments and a job very well done. Now it's our turn to roll up our sleeves for the Oak Creek Watershed.