The friends of Grant Park were very fortunate to receive 200 Quercus rubra/Red Oak saplings donated by Caterpillar, Inc. Oaks may be the single most important tree in North America for wildlife value. However, even though April 24th was Arbor Day, no one was gathering anywhere to honor the spirit of the day, let alone plant trees.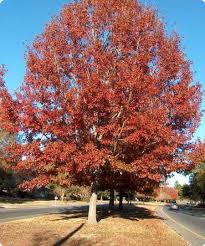 The plan last Fall was to make a tree available to every one of our incredible Weed Out volunteers in Spring 2020 for planting in the areas we have managed to clear (mostly, ahem) of invasive garlic mustard and old-specie Japanese Tree Lilac. We hoped to help make the connection as to why we even bother with the weeds. It's for the trees and the forest that we commit our annual spring efforts to removing invasive species; so it makes sense that we carry forward with a new generation of tree planting, right?

Our problem was obvious: the valuable Oaks arrived last week and we're presented with the question: how do we spread the task of transplanting them among volunteers who have been instructed to avoid gatherings and stay at home? The answer we found: one planter or family unit at a time using printed "how-to" directions, social distancing, and masks. Several intrepid volunteers from our group agreed to plant in an area recently cleared of a dense growth of the invasive Japanese Tree Lilac which had been spreading via root systems unchecked in our original County Parks nursery for 100 years. Working independently, or as a single unit family group, transplanting was begun on April 26th. We hope to have 200 trees in the ground by May 1st.

Thank you to our family and solo units: John & Peyton; Becky, Rob, George & Peter; Pam & Dave; Betsy, Rick, Deb, Jody and Lynn for their help at this time. We are hopeful our efforts take root, and that flagging for the new small trees will help visitors to the park avoid stepping on them.