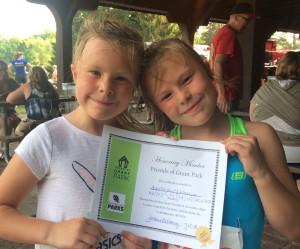 Shown above: Aubrey and Hailey McCune
The Friends of Grant Park held a scavenger hunt for families visiting the traveling beer garden on Thursday evenings. Participants were given a number of clues to find near the beer garden and told to "capture" images with a cell phone camera. Participants completing the hunt were awarded with an honorary membership with the Friends of Grant Park!
Another game offered at the beer garden was Invasive Species Jeopardy! quiz show. Contestants were given 6 chances to guess the "question" to 6 answers chosen from the jeopardy game board. Contestants had a wide variety of knowledge about the wicked weeds we whack in the park. Some contestants were as young as 7 years old! We hope everyone had a good time. Thanks to Justine Bellamy for designing the scavenger hunt, and to Jody Johnson for designing the Jeopardy game.