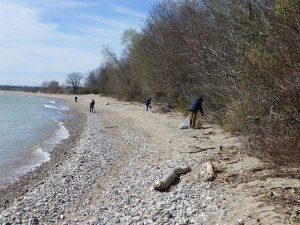 The Friends of Grant Park, partnering with Alliance for the Great Lakes, will host a beach clean-up at the Seven Bridges trail beach to address the litter left behind from a summer of fun on Lake Michigan. Volunteers will collect and record the litter to inform a database. This data helps Alliance for the Great Lakes to advocate for changes to improve the long term health of the Great Lakes.
Saturday, Sept. 21st
9 am to Noon
Meet us in Area 5 parking lot (not at the swimming beach)
So, bring a friend, the kids, and your brother to help to make the beach sparkle a bit more afterward. Even if you can only stay for an hour, we welcome your participation. It helps us plan if we know you're coming… you can pre-register at greatlakesadopt.org. Pre-registration is nice, but not required. We will supply a bag, a glove, bug spray and a refreshment. Oh, and lots of hand sanitizer!