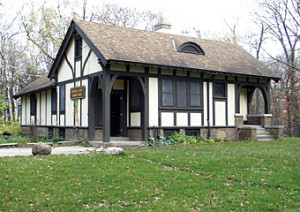 The Friends of Grant Park invite you to join us to commemorate the centennial anniversary of Wulff Lodge on Saturday, June 24th, from 3 to 8 pm. This building was built in 1917 as the residence of the first Superintendent of Horticulture for Milwaukee County Parks, Frederick C. Wulff and his family. Mr. Wulff, a native of Germany, was recruited to Wisconsin for his expertise in forestry and botany. If you look at the nearby trees, you will see species that are "champion" sized along with others that are not indigenous to the area. The area directly to the west, which is currently the special recreation facility, Wi-O-Way, was the former first nursery location which provided trees, bushes, and other plant materials that were used throughout the park system.
Mr. Wulff managed this nursery as well as the development and construction of the Seven Bridges trail. The trail was completed in conjunction with the Work Progress Administration, a 1930's contemporary to the Civilian Conservation Corps Program which was responsible for various projects along the "South Shore" of Lake Michigan. A crew of over 200 men constructed the creek bed retaining walls, lannon stone paths, staircases, and various retaining walls throughout the ravine.
Program: As part of the anniversary celebration, we have invited county & city dignitaries and speakers. Visitors are invited to tour the house and garden.  Local historian Nels Monson will elaborate on the history of the lodge and show a short film taken by Frederick Wulff. Memorial tree seedlings will be for sale. Mature trees of interest have been identified on the grounds and labeled for a self-guided tree tour. The South Milwaukee Municipal Band will play music from the 20's at 4 pm, and Boy Scout Troop 252 will build a campfire for roasting marshmallows for s'mores (available for purchase); other food available. As a final cap for the event, the scouts will lead a flag retirement ceremony. Veterans families wishing to retire flags are encouraged to bring the flag along for inclusion in the ceremony.
Wulff Lodge is located near Will-O-Way Grant, 207 Lake Drive. Enter from the north park entrance and turn right toward Wil-O-Way, park in the parking lot, then walk along the gravel drive to the left of the circular drive.