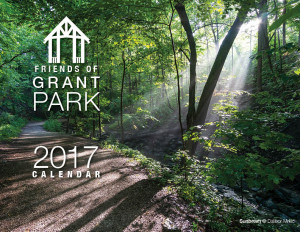 • A gorgeous full-color calendar filled with spectacular park pictures by local photographers
• The perfect gift for nature lovers
• Includes dates for South Milwaukee and Friends of Grant Park events
• All proceeds will be used for maintenance and improvement of Grant Park
in South Milwaukee
• Friends of Grant Park is a 501(c)3 non-profit organization
Special thanks to the photographers
• Lynn Crawford
• Mary Francis
• Sue Hibben
• Todd Leech
• Dalibor Mrkic
• Keith Orcholski
• Laura Rubin
• Michael Timm
• Rob Vajagich
• Rebecca Wheeler
• Rita Wiskowski
…and more 
who have graciously allowed the Friends of Grant Park to use their photo(s) for the calendar, and the calendar commitee: Pam Uhrig, Debby Pizur, Jackie Benka, Betsy Abert and Sue Hebner.
Pre-order your calendar and save!
Pre-order, early-bird pricing good until October 15, 2016. 
_____ $10 each (Save 17%)
_____  $9 each for 2 or more (Save 25%)
Calendars will be available for purchase (cash or check only) at Parkway Floral by Aug. 15.
Calendars may be ordered by mail: Please add $1.50 per calendar for shipping & handling to the above prices. Send your name, address, city, and zip code. Make check payable to "Friends of Grant Park" and mail to:
421 Hawthorne Avenue, South Milwaukee, WI 53172